Bestuur
Het bestuur is verantwoordelijk voor het draaiende houden van de vereniging. Buiten een voorzitter, secretaris en penningmeester zijn de functies klimcommissaris en materiaalcommissaris standaard bezet bij ESAC. Regelmatig bestaat het bestuur ook uit meer bestuursleden: het bestuur kent dan ook bijvoorbeeld een vicevoorzitter. Het bestuur wisselt jaarlijks, ben je geïnteresseerd in wat het bestuur precies doet en of het wat voor jou is, stuur dan een mailtje naar bestuur@esac.nl. Zij vertellen je graag meer erover! Oud besturen zijn hier te vinden.
46ste bestuur der ESAC - "Climb me to the moon"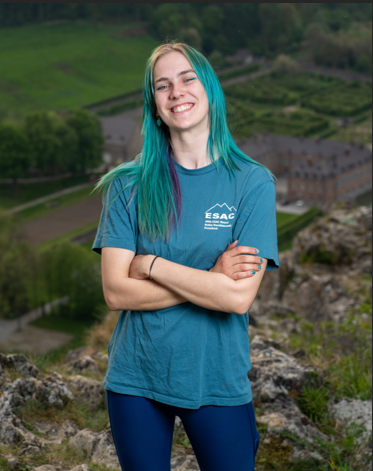 Voorzitter
: Robin Kwakkernaat
+31 6 20530987
Hi! I am (the obviously superior) Robin and I'm the President of ESAC, which basically comes down to giving bad speeches and chasing the asses of my board members to do their stuff. About 2,5 years ago I joined ESAC. This is also when I started climbing more actively, since I mostly joined because of the gezelligheid after showing up to the open training. From the beginning I have been quite active within the association, and joined a lot of committees (some of them not by my own initiative). From there it was one fun journey to being interested in board. Other things I love to do are gymnastics, dyeing my hair and arguing with ignorant people. Please don't hesitate to ask me all your important questions (about ESAC or the meaning of life, both are fine). See you at the next drink in the beerprof!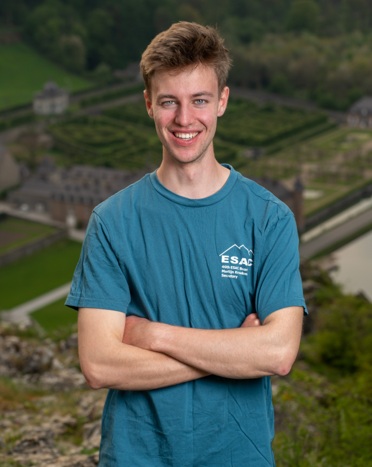 Secretaris
: Martijn Kraakman
+31 6 47847682
Heyo, my name is Martijn and I'm the person that keeps spamming you if you don't have a sportscard, also known as secretary. My climbing journey began at Monk, where I followed training for two years. After that I instantly joined ESAC when I began studying in 2019. I have been wanting to do more than just bouldering, and in the meantime I have gotten my indoor lead certificate, and I'm on my way with single-pitch. I'm also going to follow C1 in the summer. My non-climbing hobbies are toeteren, baking tosti's, and writing down all the dumb stuff people say in the minutes.
If you ever need my help, then I'm glad to forward your problems to other people. So don't hesitate to contact me!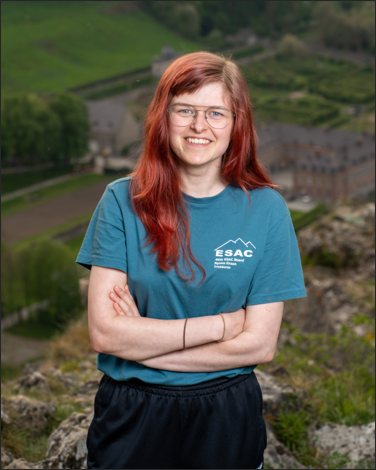 Penningmeester: Nynke Kraan

+31 6 12861730
Hi everyone, I'm Nynke and I'm the treasurer of ESAC, which basically means I'm constantly asking people for money (and I will give you money if you're lucky). I'm the newbie here, since I only joined ESAC in August 2021. That's when I started climbing as well, so I'm not that experienced yet. But I'm eager to learn it as quickly as I can! When I'm not playing with Multivers, I try to design buildings and try to teach high school children physics (try being the key word here :p ).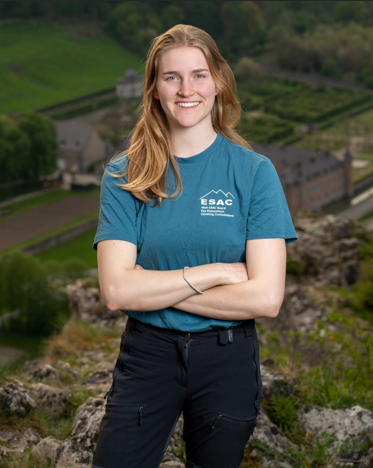 Klimcommissaris
: Eva Duyvesteyn
+31 6 31544449
My name is Eva and I am the 46th Climbing commissioner. This means I organise all weekends this year, from introduction weekend to multi pitch weekend. Currently I have been into climbing for around 4-5 years, and I am also a big fan of bouldering. I joined the ESAC in 2019 to follow the Single Pitch course, and liked it so much at the ESAC I became board here. Next to bouldering I also do kickboxing and I study biomedical engineering where I am in my 3rd year of the bachelor. For the summer I am also planning on doing the C1 course (more info about that at courses), which I am looking forward to a lot! I am very much looking forward to this year and hope to meet y'all on a climbing weekend or another activity :). You can often find me at monk, but also in Neoliet South on mondays, else you can reach me via mail or send me a message.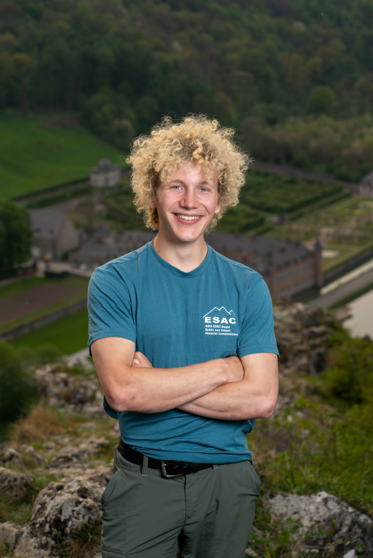 Materiaalcommissaris
: Robin van Velzen
+31 6 31307436
Hey! I am (the obviously superior) Robin. I started climbing about 2.5 years ago when some friends Introduced me to bouldering. I immediately loved the sport and, started bouldering a LOT! Eva and Elise introduced me to ESAC and I immediately wanted to join. Unfortunaltely, the pandemic threw some soot in the food, as we dutchies would say, and when I first joined ESAC there wasn't that much they could do. I did however slowly get to know more and more people in the association, and all the awesome people made me feel very much in the right place. ESAC introduced me to sport climbing, winter sport and alpinism, and It's all awesome!  I am the current material commissoner of the ESAC, so if you have any questions about material, please message me and I'l help you to the best of my abilities :). 

---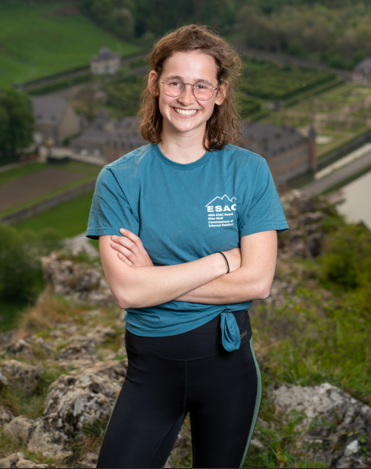 Commissaris Interne Betrekkingen
: Elise Wolf
+31 6 10521654
Hi everyone! I am Elise, and this year I will be commissioner of internal relations of ESAC! This means I will be making sure ESAC is home to all new introkiddos as well as all our other members. I started climbing 2,5 years ago, when I decided to join ESAC and now climbing is one of the things I like to do most. As I became more active within the association, I discovered ESAC's 'gezelligheidscultuur' and I am very excited to keep this up!
During my non-ESAC related hours I like to do gymnastics and tennis. I am also in my 3rd year of my bachelor biomedical engineering and try to put some time in that too. Ever since I got a Monk abbo I am terrorizing that place a lot too, so if you ever need me, monk would be a good option to take look. I am very excited to do a lot of climbing and other ESAC activities with you next year!! Hope to see you around!