Outdoor Multi Pitch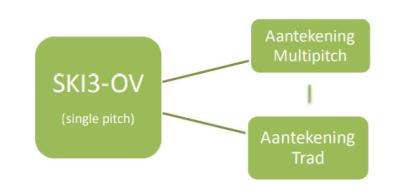 Target audience
You have indoor and outdoor Single Pitch experience and want to climb longer routes outside. You are motivated to learn everything about safety and technology that comes with it. You are motivated to complete the process described below spread over a few months. With this license you can also enroll in the outdoor kader track.
Entry Requirements
Indoor AND Outdoor lead climbing Single Pitch (IV / OV-SP) exam passed or comparable experience;
Being able to lead climb 5+ in the hall and without a block;
Participation in at least one of the two OV-MP weekends;
Attendance at all lessons;
Motivation (tested by the Education Committee at the time of admission);
Content
The course consists of 1 admission moment, 5 course evenings, multiple climbing weekends of which at least one OV climbing weekend and the exam. With this course you will learn step by step what is important in multipitching. Topics that will be discussed include building anchors, hoists, double-rope techniques, prusikken and orienting in the rock.
Period
The intake time for the OV MP course takes place after the Christmas holidays. The course is given in March / April. The weekends take place at the start of the climbing season. The exact dates are shown in the agenda when they are known.
Exam
The OV-MP exam is taken during a climbing weekend. To do this, after the course you have to practice the techniques during climbing weekends under the supervision of an SKB or SKI. If you have signed off your route list and an SKI has put a signature as proof that you are ready for your exam, you can take the exam next weekend. During this exam you have to show that you master the techniques and you get a case. A case is a scenario in which something goes wrong. In cooperation with your climbing partner you must complete this case in a safe manner.
Equipment
Harness
Safebiner
Safety device, preferably a (auto)tuber-like
Climbing shoes
5 screw carabiners of which at least 1 is HMS biner
1 sling of 120 centimeter
Dynamic self-belay (recommended), i.e. Petzl Connect Adjust, or 1 nylon sling of 90-120 centimeter
Prusikrope (thickness: 5mm; length: 1x 1m, 2x 5m; preferably different colors)
Quickdraws 6x, possibly 2x extended
Costs
The costs for this course are expected to be 50 euros.
Subscribe
Do you want to sign up for this course? In the agenda it becomes visible when you can register for the course. If you have any questions, please contact the Education Committee via OC@esac.nl